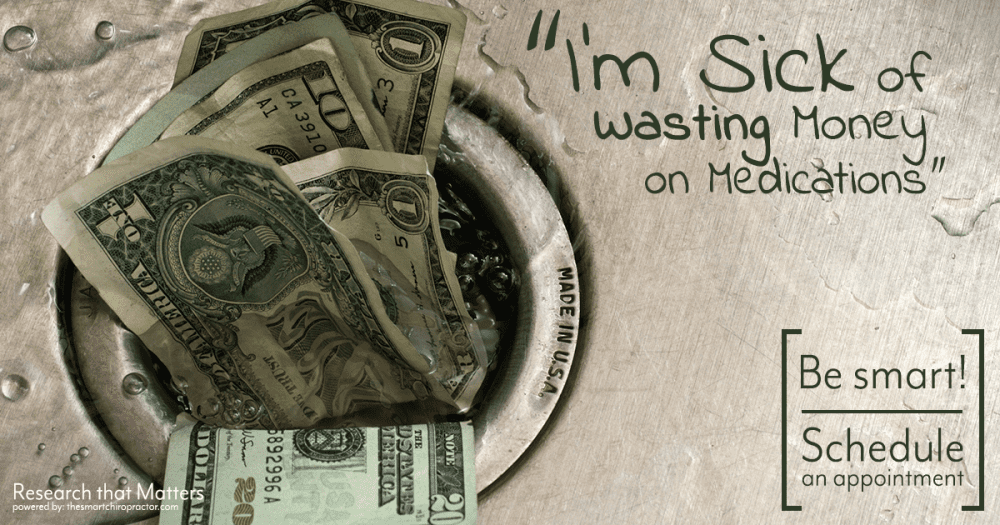 Bottom Line: Sick of spending money on medications that don't fix your problems? Well, new research has shown that utilizing chiropractic care can decrease the money you spend on medications by up to 85%! We both know that a dollar saved is a dollar earned.
Why it Matters: See people dance through fields of dandelions on television? You know, the standard big pharm interpretation of "health" costs a lot of money. However, all that money spent on commercials does not necessarily make you have a greater quality of life. Top research papers have shown conservative care, such as chiropractic, to reduce pain and improve quality of life. So, not only is saving money a benefit of chiropractic care, but you also can look forward to spending more time doing the things you love, with the people you love.
Next Steps: Take this copy of Research That Matters and share it with a friend who is sick and tired of taking too many medications. It could be their first step towards getting their life back. There may be a better, more natural way for them to find relief with chiropractic care.
Science Source: Clinical Utilization and Cost Outcomes from an Integrative Medicine Independent Physician Association: An Additional 3-Year Update
Journal of Manipulative and Physiological Therapeutics May 2007
Dr. Brennan Bates, DC
Sports Chiropractor
Contact Me